Welcome
Welcome to the Vrij family's website, which serves to provide you with all the information about our work as living statues that you seek.
Within our household, all members contribute to our statues in one way or another. Axel and Raquel Vrij are the two stars of the act, which you probably know. Marri-Anne makes the costumes for them (taking their contribution into account, of course), whilst Arjan and Mereyn handle the remaining miscellaneous tasks.
How it began:
Back in 2014, Axel and Raquel attended the workshops for the world championships in Arnhem. They liked the workshops so much, that they decided to participate in the actual competition. The world championship for children, to be more precise. This meant they had to put a lot of work into coming up with an idea, and making the actual suits and suchlike.
However, the reactions they received from the juries and the audience made it more than worth it and gave us the drive to bring our act to some local funfairs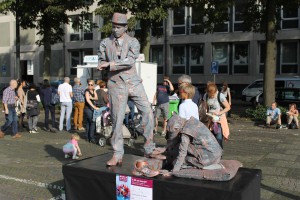 Because we noticed that the public really likes an statue that stands still, but sometimes it can also be positively surprised if the statue did move, the idea arose: Silent or Not.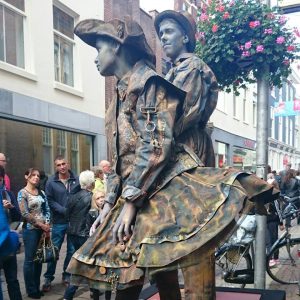 Now a few years later, we have several nice acts, we not only been at competitions / festivals, but we are also invited to visit openings, fairs, homes for the elderly , among other things. We also give workshops for interested parties.
Currently have new ideas and we are busy developing new acts.